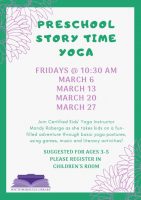 The Southborough Library is holding a special storytime for preschoolers in March. On Friday mornings, kids aged 3-5 can enjoy some yoga with their stories.
Join Certified Kids' Yoga Instructor Mandy Roberge as she takes kids on a fun-filled adventure through basic yoga postures, using games, music and literacy activities!
The sessions will be held at 10:30 am in the Children's Room on Fridays March 6th – 27th.
To sign up, stop by the Children's Room desk or call 508-485-5031.