The Northborough-Southborough Schools launched a "One Community of Readers" initiative in the fall. At the heart of the request was a parenting book, The Gift of Failure: How the Best Parents Learn to Let Go So Their Children Can Succeed.
In March, author will address parents and the school community:
On March 25, 2020, the author, Jessica Lahey, will be visiting our District and giving a keynote speech. Community members are welcomed to attend this free speaker series event (Having read the book is not a requirement). The goal is to engage the school community in shared learning, making connections, and conversation about parenting.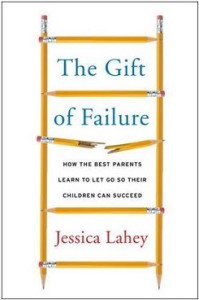 Although the message from the Superintendent notes that reading the book isn't required, it also reminds:
The purpose of the community read is to engage families in discussing the topic of parenting and participate in conversations about the role that failure has in the learning process of a child.
The message indicates that copies of the book are available at the school libraries. There are also copies available through the Southborough Library, (click here or call 508-485-5031.)
The author talk will be from 6:30 – 8:30 pm in the Algonquin Regional High School Library. You can read more about the author and the book in my initial post, here.