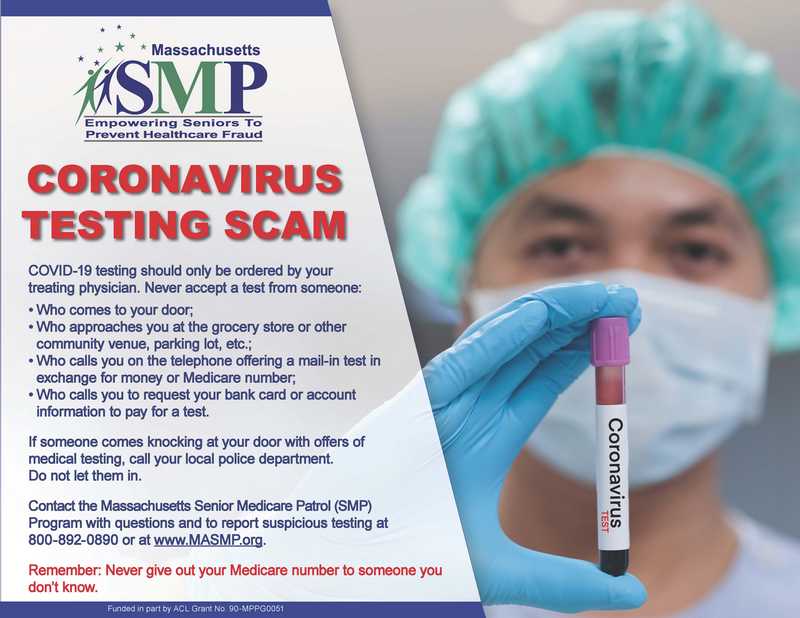 I've been asked to share a scam alert. Unsurprisingly, scammers are looking to make money off the covid-19 pandemic. They're leveraging fears of the virus and the lack of widespread testing available to date.
While everyone should be on alert, some scams target seniors by seeking their medicare numbers. The Director of the Southborough Senior Center asked me to pass on the warning she received from a regional Medicare watchdog group*. It warns of calls, door-to-door sales, and even what to do if you receive a "test" in the mail:
The Massachusetts Senior Medicare Patrol (MA SMP) Program* warns the public to be wary of anyone other than a treating physician who is offering you coronavirus testing. Be particularly suspicious of anyone offering COVID-19 testing in exchange for your Medicare number, money, or to gain access into your home. Be careful!

"Sadly, the scams around coronavirus testing are spreading almost as fast as the virus itself," said Lucilia Prates-Ramos, the statewide director of the MA SMP program. "Testing can only be ordered by a treating physician. We have heard about teams in white coats are going door-to-door offering virus testing. This is NOT a valid offer. What they are really interested in is robbing the elder or stealing their identify. We have heard reports of callers pretending to be a nurse offering test results once they get a credit card number. These kinds of calls are also not for real."

Never accept a coronavirus test from someone:
• Who comes to your door;
• Who approaches you at the grocery store or other community venue, parking lot, etc.;
• Who calls offering a mail-in test in exchange for money or Medicare number;
• Who calls to request your bank card or account information to pay for a test.

"If someone knocks at your door to offer medical testing, do not let them in," Prates-Ramos said. "Instead, call the police immediately. Remember: Never give your Medicare number to someone you don't know."

If a testing kit is mailed to you, do not accept it or return it to the sender, Prates-Ramos advises.

"Keep a record of the sender's name and the date you returned the items," Prates-Ramos said. "Then make a note to check your Medicare Summary Notice, if you are on traditional Medicare, or your Explanation of Benefits statement, if you have a Medicare Advantage plan, to make sure Medicare did not pay for the test kit. If you have any questions, please call us."

For details about scams related to coronavirus testing call the MA SMP Program at 800-892-0890 or visit the Federal Trade Commission website at: https://www.consumer.ftc.gov/blog/2020/02/coronavirus-scammers-follow-headlines
For more information on the coronavirus visit:
https://www.cdc.gov/coronavirus/2019-nCoV/index.html
https://www.mass.gov/resource/information-on-the-outbreak-of-coronavirus-disease-2019-covid-19
*The Massachusetts SMP (Senior Medicare Patrol) Program is a statewide collaboration working in partnership with governmental, non-governmental, statewide and local agencies, community-based organizations and a corps of volunteers promoting consumer engagement to prevent healthcare errors, fraud and abuse.