Southborough Youth and Family Services recognizes the emotional impacts that covid- 19 and safety protocols are having on the community.
SYFS writes:
You may be struggling with parenting issues, family matters, experiencing intense emotions, feelings of isolated and loneliness, worry over health concerns, or all of the above.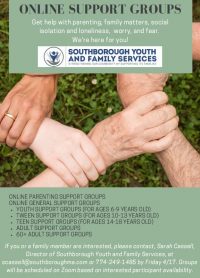 The agency is reaching out to help. Staff will run a number of support groups. One is for parents and others are for five age groups from youth to 60+.
Like with many gatherings and meetings that can't be done in person, they are looking to hold virtual meetings online.
Online Support Groups
Dear Southborough residents,

In just a few short weeks, we have all had to quickly adjust to a new normal for an indeterminate amount of time. Major changes to our daily living have brought about higher levels of stress with less access to our usual coping strategies. You may be struggling with parenting issues, family matters, experiencing intense emotions, feelings of isolated and loneliness, worry over health concerns, or all of the above. The staff at Southborough Youth and Family Services would like to offer support during this difficult time in the following ways:

Online Parenting Support Groups
Online General Support Groups

Youth Support Group (for ages 6-9 years old)
Tween Support Group (for ages 10-13 years old)
Teen Support Group (for ages 14-18 years old)
Adult Support Group
60+ Adult Support Group

These Support Groups will provide opportunities to "meet" with others online who are experiencing similar stressors and find support through comradery and guidance from mental health and human service professionals. All groups will take place on Zoom and will be scheduled based on the availability of interested parties. Groups will run for approximately 6-8 weeks. If you or a family member is interested in participating in one of the above mentioned groups or have questions, please email the Director of Southborough Youth and Family Services, Sarah Cassell at scassell@southborough by Friday 4/17/20. Please include "Support Group" in the subject line of your email.

Thank you,

Sarah Cassell, LMHC
Director of Southborough Youth and Family Services