As of this afternoon's update, there have been no newly confirmed cases of Covid-19 in Southborough since Monday.
It seems as though there has been success in slowing the virus spread in Town. There have been no new cases since Monday. And four of the 11 patients have been "released from quarantine". (Seven still remain quarantined at this time.)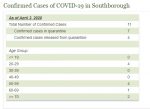 That data is part of the newly launched Covid-19 Information Center on the Town's website. The site also shares data on age groups of those infected:
20-29 years old: 4
50-59 years old: 4
60-69 years old: 1
70+: 2
The page also includes Frequently Asked Questions, important links, and links to the updates issued by the Town. Today's Update explains:
As concerns rise over the Coronavirus (COVID-19), town officials would like to take this opportunity to provide Southborough residents, town employees, businesses and the general public with an update on some of the measures that have been taken to date in regards to COVID-19.

Information about the coronavirus is evolving, and the situation remains dynamic. The Town of Southborough continues to be in contact with state officials, emergency management teams and board of health representatives to discuss plans daily. It is also important to keep you, the resident of Southborough, informed of the latest information and updates on the Town's COVID-19 response.

To that end, the Town has revamped the COVID-19 update page on the Town website. You can find it here: https://www.southboroughtown.com/town-administrator/covid-19-information-center . This includes updated numbers on positive test notification, links to previous Town updates, and information from Town, State and Federal organizations related to the pandemic. There is also an option on the website to sign up for email notifications when the COVID-19 page is updated with new information. You can sign up for that and other notifications here: https://www.southboroughtown.com/subscribe.

This information will be updated when new information becomes available. Please sign up for email updates or check back frequently.

With the reported cases, and the guidance from the Governor that the pandemic will peak sometime in the next 10 days, the Town reminds residents to adhere to DPH and CDC guidelines with regards to hand washing and social distancing. We need to do all we can to curb the spread of the virus.

We will continue to monitor this situation closely and provide ongoing updates on the town website.