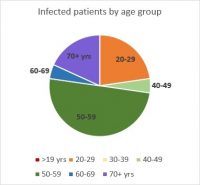 After a week of holding steady with no new infected patients, the Town updated its statistics yesterday. Two more residents were tested positive for Covid-19. That brings the total of patients to 22.
Only 3 residents are still in isolation, with 19 already released.
The last reported new cases before yesterday had been as of April 14th. On April 21st, the Town's update showed no additional cases and a spike in the number of patients released from isolation.
Data reported on patient age groups shows that half of all patients were in their 50s.