This afternoon, Friday, April 24th, there will be a parade of local first responders showing appreciation for workers at Marlborough Hospital.
Technically, this is Marlborough news, which I don't normally share. But, since Southborough doesn't have its own hospital, and our Town's first responders are part of the planned procession, I'm sharing the invite.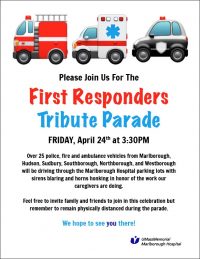 According to the announcement, local police, fire and ambulance vehicles will drive through the parking lots of UMassMemorial Marlborough Hospital at 3:30 pm. They'll be blaring their sirens and horns in tribute to the hospital's "caregivers".
The flyer right invites the public to join them (though keeping safe distances).
I sought clarification from the hospital representative that issued the invite. She explained that the public is welcome to stand on the lawn, but only the emergency vehicles can participate in the parade.