[Editor's Note: The event is being postponed to Tuesday, July 14th.]*
Tomorrow, there will be an unusual game of Hide & Seek for the community to play.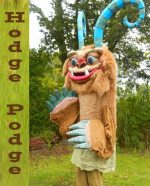 "Hodge Podge", the creation of puppeteer Mr. Vinny, will be "hiding" somewhere in Southborough. Kids are encouraged to find him.
Don't worry, families aren't being asked to run through town looking behind every tree. They're being given clues to help them hone in on his location.
The game is sponsored by the Southborough Library. Children's Librarian Kim Ivers has already been dropping hints on social media.
Yesterday morning, Miss Kim posted a Facebook video for kids about the week's Summer Reading activities. At 7 minutes and 15 seconds, she begins her description of the event and clues. You can also find up a roundup of recent clues in a written post from yesterday. More clues will be released on the Facebook page before the event.
The fun is scheduled for Wednesday, July 8th. Between 3:00 – 4:00 pm, kids can pose for pics (at a safe distance) with the giant creature, once they find him.
No registration required.
Updated (7/8/20 11:08 am): Due to forecasts indicating a good chance of rain and even thunder, the event is being postponed. It is rescheduled to Tuesday, July 14th from 3:00 – 4:00 pm. Hodge Podge will be selecting the same "hiding spot", so the previously issued clues will still apply.