This summer, Niche.com ranked "Best Place to Buy a House in Massachusetts". The #2 selection was an interesting one—Cordaville, also described as the #2 Mass Suburb to buy a house in.
I share the news when we make (or sometimes fail to make) good marks for our schools or town. But I always note my wariness of rankings. And this one seems especially odd. So, while it may make for some interesting reading – I'm noting up front that didn't find anything of real value in their data.
The associated map confirms that Cordaville is within Southborough. Yet, Niche doesn't even mention the town. It is instead described as:
a suburb of Boston with a population of 2,905. Cordaville is in Worcester County and is one of the best places to live in Massachusetts. Living in Cordaville offers residents a rural feel and most residents own their homes. In Cordaville there are a lot of parks. Many families live in Cordaville and residents tend to lean liberal. The public schools in Cordaville are highly rated.
Not only is it calling out one village, but it isn't event correctly identified on the map. It appears that Niche has merged two of the Town's four villages.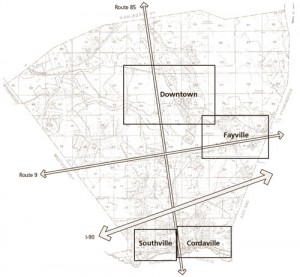 I'm guessing there are plenty of readers who don't know about the villages or are confused about the location.
Back in 2009, the Town issued a map that identified villages in Southborough: Downtown, Fayville, Southville, and Cordaville. (At the time, a committee was pursuing potential village based zoning changes.) You can see that image right.
The Niche map outlines Cordaville as the entire section of town south of the Mass Pike. The Town's map identified Cordaville as just the eastern section of that region. The western section is Southville.
The Downtown Village has gotten a lot of attention as the Economic Development Committee has been pursuing an initiative to "revitalize" the area. Fayville is the only one of our villages that has its own zip code. Because of that distinction, I have sometimes seen Fayville singled out.
But Cordaville's zip is the same as the remainder of Southborough. And not only do Cordaville students go to the same schools as the rest of town, it's not accurate to refer to their schools as "in Cordaville". Even by their redefined borders, only one (Mary Finn School in Southville) fits that description, and kids age out of that when they enter 2nd grade.
None of Southborough's other villages are included on Niche. The entire town is, also identified as a suburb of Boston, with no acknowledgment of overlap with Cordaville, though the map includes the region.
So, how did the entire town rank on list of places to buy a house?
Southborough was #39 for "places" and 29 for "suburbs". Why the difference between the town and Cordaville? Not sure. (The Town does have some crime data listed – giving us a B. And, of course, Cordaville's Crime section is missing any data. But, it's not clear if crime was one of the determining factors.)
Southborough's description is mostly the same for Cordaville's except for replacing a "lot of parks" with "a lot of restaurants, coffee shops, and parks." (I don't think many of us would describe the number of restaurants and coffee shops as "a lot".)
Some will note that Hopkinton made #1 on the list. But, while I'll say kudos to "Cordaville" (and, I guess, Southville) for being well rated, I can't take the rankings that seriously.
After all, once you buy the house in Cordaville, Niche may expect you to rent it out or flip it. Because according to another of their many lists, it's only the 59th Best Place to Live in the state. (If you do live there, you may prefer the Town's stat, which comes in at 46.)