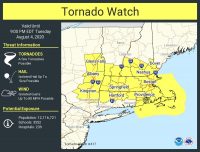 This afternoon, Southborough Emergency Management alerted that the forecast has been updated to a Tornado Watch for the entire state.
That means everyone should be on alert for a possible "Warning" and have a safety plan in place. (So far, the more severe Warnings have only been issued northwest of us.)
Lt. Neal P. Aspesi writes:
As we are in the northeast quadrant of TS Isaias the NWS has issued a Tornado Watch for all of Massachusetts (CT & RI). There have already been Tornado Warnings issued this morning in western MA and CT.

Watch: Conditions favorable tornadic development.
Action: Keep abreast of weather alerts and keep an eye to the sky

Warning: Tornado development imminent, Rotation confirmed by radar or Tornado witnessed.
Action: Seek shelter immediately.

Remember there are many hazards that present themself after a tornado touchdown, namely live wires, gas/propane/hazardous material leaks/spills, overhead debris, sharp debris, debris covered holes, and frightened pets/animals.

Be Smart, Stay Alert, Stay Safe.
You can find more details in a NWS Update from a few hours ago, here. You can look for more updates from the weather service's twitter feed here.
Below is a graphic on the difference between a Watch and a Warning: