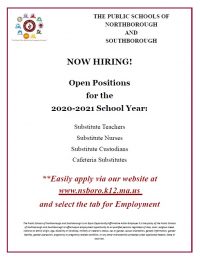 The district administration asked me to share a flyer. As the NSBORO Schools look towards reopening, they are seeking applicants for backup to essential school positions.
The substitute list encompasses more than teachers. The district is also seeking substitute nurses, custodians, and cafeteria workers.
The flyer directs interested applicants to the district's HR website for more details.
The positions are posted "until filled" with start dates for some positions in late August, others in September. The positions had been posted back in June before the Reopening Plans were known. They were re-posted this month
Also added to the districts job postings since I last shared them, non-substitute positions for a Special Education Teacher and a Reading Tutor. Additional positions that I previously shared are also still posted.