The Southborough Library has partnered with crafter Mandy Roberge on more craft workshops for teens and tweens.
10-19 year olds are invited to sign up for virtual sessions led by Roberge over zoom. In advance, participants will receive kits in the mail, with all the crafting materials they'll need.
The next two creations are suncatchers and macramé rainbows.
Patrons can sign up to be one of the participants in a Crafternoon session. Registration is handled through through Southborough Recreation's website. Each program is free but limited to the first 16 registered. So register soon.
Registration for upcoming sessions are through Recreation's website. The details are below.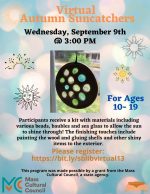 Autumn Suncatchers
Wednesday, September 9th from 3:00 – 4:30 pm
This is a super fun workshop for tweens and teens. The kit includes plaster of Paris and a wooden hoop, and patrons will mix the "goop" and pour into the mold before pressing in various beads, baubles and sea glass to allow the sun to shine through. The finishing touches include painting the wood and gluing shells and other shiny items to the exterior.
Click here to register.
Rainbow Macramé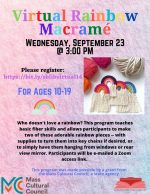 Wednesday, September 23 from 3:00 – 4:30 pm
Who doesn't love a rainbow? This program teaches basic fiber skills and allows participants to make 2 of these adorable rainbow pieces — with supplies to turn them into keychains if desired, or to simply have them hanging from windows or rear view mirror.
Click here to register.
These Crafternoon sessions were sponsored through a grant from the Mass Cultural Council.