The NSMA is using the Northborough Mooyah to raise some moola again. The upcoming fundraiser is tomorrow, Tuesday, November 3rd.
Sounds like a good option for anyone feeling the need to stress eat some comfort food that night. (Bonus, you could get some free fries with your meal.)
The fundraiser starts at noon this time and runs to 8:00 pm. So, you can take advantage for lunch or dinner. If you mention the fundraiser when you order, a portion of the amount charged for your meal will be donated to the Northborough Southborough Music Association.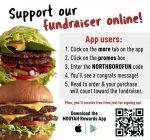 In the past, I've noted that Mooyah fundraisers only count towards a cause if you order at the counter, not in advance online. But it seems they've fixed that.
Mooyah now has a mobile app. If you download it and create an account, you'll get free fries as a bonus with your order. Plus, you can designate the fundraiser through the promo code "NORTHBOROFUN".
The restaurant is located at 10010 Shops Way in Northborough.
The chain's focus is burgers, fries and shakes. But for those looking for healthier options, they also offer alternative burgers, including turkey and black bean burgers. You can check out the menu and other details here.
As for the cause being supported, organizers pitched for their January fundraiser:
NSMA is an all-volunteer, all-parent run music organization supporting the musical education of kids grades 4-12 in Northborough and Southborough. This event raises funds for annual music enrichment awards, senior scholarships, in support of music teacher needs and for the purchase of equipment needed in our music programs.