The Southborough Library is bringing back a special virtual club for ages 10/11 to 18. The Writing Club will meet over zoom on Fridays at 3:00 pm in November and December. (Except for holiday weekends.)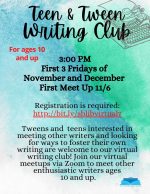 The program is led by Library staff member Marianna Sorenson.
Sorenson ran a similar club this summer. She shared:
Southborough Library is offering Virtual Writing Club for Tweens and Teens again. . . geared toward youth 11-18. Meetups will last an hour. Attendees get fun prompts to spark some writing ideas and share their work in a relaxed environment. Access to a computer and internet are necessary, but attendees can type on computers or write on paper.

Our summer meetups resulted in some great works covering everything from lost socks to rock climbing, haunted houses and carnivals, sage advice, and living in Covid 19. We would love to find out what else people can come up with! All comfort levels in writing are welcome.
To sign up, click here.