If you're interested in signing your child up for after school skiing this winter, better act soon. According to Southborough Recreation, this year's program is already filling up. That's likely in part because Rec doesn't have direct control of this year's registration.
In fact, this year's program isn't Ski RAP. For safety reasons, Southborough Rec won't be providing transportation.
Instead, the community is being provided the information on programs available to Southborough students at a discount.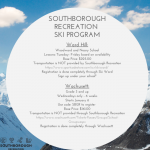 Ski Ward Ski & Snowboard Lessons (Neary and Woodward Students)
The program is for lessons for Neary and Woodward students only:
Registration is LIMITED. First come, First Serve. Upon registration, you will be required to select your preferred day (Tuesday-Friday) and time (starting at 4:00pm). Again, times and days are based on availability, register ASAP.
The base price is $225, plus additional cost for rentals if needed. Click here for more details.
Wachusett Mountain Ski & Snowboarding – lessons and/or season passes
This will be for a 6 week session on Wednesdays, starting January 6th. Southborough Rec has a special registration code for the $71 lessons, but the sign up is directly with Wachusett.
Additionally, 3rd graders and up can get season passes for $161, plus additional cost for rentals if needed.
For details, click here.
If you have any questions please email Recreation@southboroughma.com.