While around the country, the Covid rates have been alarming, new cases have been lower at home over the past couple of weeks. Here's an update on where things stand in Southborough and our public schools.
The numbers in Southborough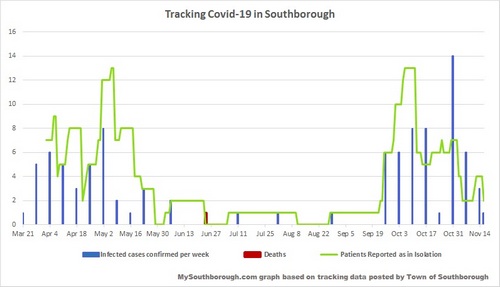 This afternoon, the Town updated its site to add one new case. It's the fourth in a week and 10th in 2 weeks. It brings the total confirmed cases in Southborough to 97. Currently, only two of those cases are considered active with patients in isolation. (For details, see graph above.)
The most recent weekly report from the state (issued November 11th) put Southborough's risk level at grey (the lowest possible category). That is based off of 8 new cases in the 14 days ending Saturday, November 7th. (Prior to the metrics changing on November 6th, that would have been considered yellow. Still it's a marked improvement over weeks earlier this fall when Southborough was in the red.)
Below are my updated graphs showing the current age breakdown and the ages over the course of the pandemic. (Click to enlarge.)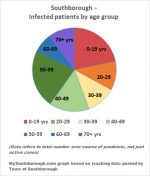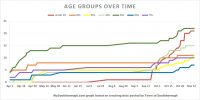 NSBORO Schools
In the school district's November 15th weekly Covid Dashboard, the administration listed 1 currently active case, with only 24 over the course of the pandemic.
At this point, the schools still haven't tracked that any infections have been the result of in-school contacts. The graphs show that only 6 students/staff are currently in quarantine due to close contact in the schools. Three are linked to Algonquin and three to Northborough K-8.
That data is below, followed by my graph tracking the new cases since the start of the year.