This week, there's another restaurant fundraiser for a good cause. This Wednesday, you can support the Algonquin Writing Center.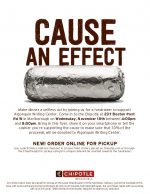 Between 4:00 – 8:00 pm, you can order dinner from Chipotle in Marlborough and have ⅓ of your bill donated to AWC.
For the money to be donated to AWC:
If you are ordering online, use promo code: XCA4JJJ
If you are ordering in person – mention the fundraiser and be prepared to show the flyer (right). You can print it or show it on your phone.
The restaurant is located on Route 20 at 237 Boston Post Road West.
The Algonquin Writing Center is a free tutoring service for Algonquin students, run by students. To learn more, click here.