SEF is promoting, "Teachers and school staff deserve our gratitude now more than ever! Consider saying 'Thank you' by giving a Red Apple Award!"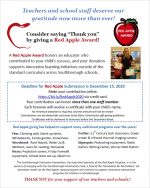 Red Apples are donations made to the Southborough Education Foundation in the name of a teacher or staff member. The program is a major fundraiser for SEF which provides grants to Southborough educators. With your contribution, you'll help support innovative educational programs for your child.
The non-profit pitches:
A Red Apple Award honors an educator who contributed to your child's success, and your donation supports innovative learning initiatives outside of the standard curriculum across Southborough schools.
Past investments include the Story Walks at Finn and Woodward School, a Qball at Neary, a "Think Board" for Trottier, and Podcast equipment for Algonquin.

Last winter, Woodward posted images of students continuing to make use of a code learning tool, Root Robots, purchased through a past SEF grant. (image right)
Here's how the Red Apple program works. Make your donation online. Designate which teacher or staff member you want the award to go to, and they'll receive a certificate with your child's name on it. You decide the amount of the donation – it won't be printed on the certificate. Your contribution can honor more than one teacher or staff member.
Contributions are tax-deductible and meet the teacher gift-giving provisions of the State Ethics Commission.
As I have previously posted, SEF is in the process of merging with the Southborough Community Fund. SCF does intend to continue providing innovative education grants. (You can read more about that here.)
The last day to order a Red Apple Award for the holidays is Tuesday, December 15. Click here to donate.