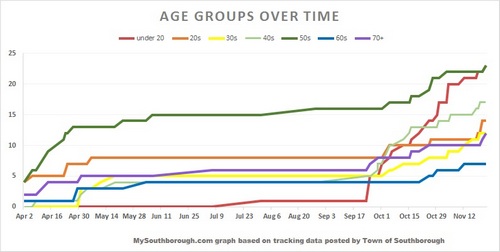 There have been six new Covid-19 cases confirmed since my update on Friday. That brings the total of Southborough residents up to 108 over the course of the pandemic.
Fifteen cases have been confirmed in the last two weeks. (That is low enough to still be considered a low risk community.) Eight of those cases are considered active with patients in isolation.
This Sunday, the Northborough Southborough Public School issued an updated Dashboard. It lists 7 students/staff as confirmed positive just last week. 9 were isolated last week due to recent positive tests, and another 12 were quarantined due to in-school contact. (As of yet, no confirmed cases have been traced to in-school contact.) In addition, 38 students/staff were quarantining either due to out of school contacts or recent travel.
Speaking of travel, a reminder to those considering traveling for Thanksgiving – the district has a strict travel quarantine protocol.
Even for those not traveling, if you are planning to host a gathering, the district is also asking families to follow public safety guidelines for having a safe Thanksgiving. Plus, they shared a safety checklist.
Below are my updated charts tracking Covid cases and other available details posted by the Town and schools.