I'm running my annual roundup of holiday collection drives in town. (Normally, I'd post this tomorrow for Giving Tuesday, but it includes one that wraps up today.)
SYFS Holiday Giving Program – closes today
The annual program supports Southborough families in need over the holidays. This year's deadline is Monday, November 30th.
If you can't get them a gift card in time, an online donation is another option. Click here for a reminder of all the options and details.
Project Just Because (through the Southborough Fire Department)
The Southborough Fire Department is again collecting gifts for this Hopkinton based charity.
Please try to get new, unwrapped donations in by Wednesday, December 16. The Fire Department is always open, so drop off any time in the vestibule at 32 Cordaville Road.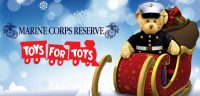 Toys for Tots (three drop off spots in town)
Three organizations in town are running their annual collection for the cause.
Since 1947, Marines have been collecting gifts for underprivileged children. Gifts can be for ages anywhere from 1-16 years old.
Drop off your new, unwrapped gift donations soon at one of these locations:
Southborough Senior Center
Drop-off event for seniors – Friday, December 4th from 11:00 am to noon
9 Cordaville Road parking lot (no need to get out of your car)
Note: If you are unable to make this event, you can call Peg Leonard at (508) 229-4453 to arrange another drop off time.
Southborough Veterinary Hospital
78 Deerfoot Road
Mon-Fri 8:00 am – 6:00 pm, Saturdays 8:00 am – 1:00 pm
Deadline: Friday, December 8
Long Cadillac
218 Turnpike Road
Mon – Thurs 9:00 am – 7:30 pm, Fridays 9:00 am – 6:00 pm, Saturdays 9:00 am – 4:00 pm
Deadline: Friday, December 8
Planners for Presents
Last month, I posted about the change this year to the annual Pretzels for Presents fundraiser. It's not actually a collection drive. But, they will be using all proceeds from the sale of 2021 decorative planners to donate presents to Shriner's Hospital patients. For a reminder of those details, click here.
Updated (11/30/11:59 am): The Senior Center asked me to let readers know that they can call to arrange another time if they can't make Friday's event.
Updated (11/30/20 1:06 pm): I was initially missing Southborough Veterinary Hospital's drop off info.