Former Southborough resident Arthur Butler is turning 100 years old this Friday, January 8th. Southborough veterans and members of the community where Butler now lives have plans to honor him. They are inviting the public to join them. (For invite details, scroll down.)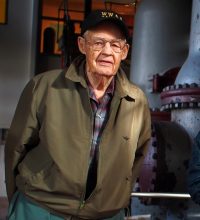 Butler is an Army veteran of WWII, a Tech 4 Sargent. Fighting in the Pacific, Butler earned a Combat Infantry Badge and Purple Heart.
In 2010, he received a Bronze Star. That year, Butler contacted Southborough Veterans Agent John Wilson for help getting a replacement for his missing purple heart. Wilson discovered that Butler was eligible for the Bronze Star for his contributions towards the end of the war.
The Metrowest Daily News wrote:
Butler began his military service in July 1943 and was sent to fight in Okinawa with Company A, 1st Battalion, 184th Regiment of the 7th Infantry Division.

One night in June 1945, Butler, then 24, crawled into a foxhole to watch for Japanese soldiers.

"We were supposed to be sleeping, but the Japanese did a lot at night," Butler said.

During their watch, Japanese soldiers crossed their lines, and Butler and the other men on duty sprang into action.

"We just got in their way and had to start throwing grenades," Butler said.

Butler and three other men suffered wounds during the fight but had to wait until morning before they could be rescued.

Butler said he was wounded in the hip and stomach and spent several weeks recovering in a hospital. By the time he got out, the war was over.

For his actions and wounds, he received the Purple Heart and Combat Infantry Badge.
Southborough's Allan Bezanson shared some more detail he learned from Butler about the incident:
He was dug into a foxhole with another soldier but rocks underneath prevented them from digging deep enough. It was night but he recalls seeing the enemy soldier's upraised arm as he hurled the grenade that injured him and his fellow soldiers. When daylight came he was brought out in a jeep to a Piper Cub that got him to a field hospital where he was treated for two months.
According to the article, Butler returned to his hometown of Framingham after the war. He moved to Southborough in 1989 where he lived until a few years ago. He moved first to the Willows in Westborough and is now at New Horizons in Marlborough. Staff there are helping to organize a Covid-safe celebration of his big milestone. One of the elements is a drive through parade.
Southborough VFW Commander Steve Whynot shared that a parade of Police, Fire and vehicles of friends and well wishers will be held at 2:00 pm this Friday. Those who would like to join the entourage are invited to stage across the street from New Horizons at 1:45 pm in the parking lot of St. Mathias Church on Hemenway Street in Marlborough. The parade will pass by the main entrance where Mr. Butler can view them. "Signs, Flags, Messages of Good Wishes are all welcomed."
For those who can't make the parade – you can send birthday wishes to Arthur Butler, New Horizons, 400 Hemenway St, Marlborough, MA 01752.
In honor of Butler, Whynot shared some documents that Bezanson dug up and photographed to share. Those included:
Butler's Wounded in Action report
Documentation of the Combat Infantryman Badge
Bezanson also took pictures of an original Life Magazine article from June 1945 that Butler's parents kept. It covered an Army company that was near Butler's. It was a detailed, dramatic look at the conditions and "working day of a foot soldier who helped win the island" of Okinawa. (Bezanson plans to digitize the article.)
Thanks also to Bezanson for contributing his photo of Butler in 2015 (to the right of the 2nd paragraph).
Updated (1/5/20 7:10): Bezanson provided redacted documents to protect private information on the WIA and Combat badge reports.