The Southborough Library has partnered with crafter Mandy Roberge on more craft workshops for kids and teens.
This afternoon, the Library is holding a craft session on Mason Jar Lanterns. Three more monthly events have been scheduled for February through April.
Each program is free but limited. So register soon.
Crafters ages 8 and older are invited to sign up for virtual sessions led by Roberge over zoom. In advance, participants will receive kits via curbside pickup with all the crafting materials they'll need.
The next creations are Valentine Boxes, sculpting a ring holder and magnet, and decorated cookies.
Patrons can sign up to be one of the participants through Southborough Recreation's website.
The details are below.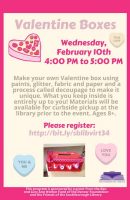 Valentine Boxes
Wednesday, February 10th from 4:00 – 5:00 pm
Make your own Valentine box using paints, glitter, fabric and paper and a process called decoupage to make it unique. What you keep inside is entirely up to you!
Click here to register.
Sculpey Fun
Wednesday, March 10th from 4:00 – 5:00 pm
During this tactile workshop we will make a cactus ring-holder and a piggy magnet. This craft requires an adult to help bake, either during or after the workshop.
Click here to register.
Cookie Decorating
Wednesday, April 14th from 4:00 – 5:00 pm
Participants will decorate cookies using a technique known as "flooding" using royal icing.
Click here to register.
These sessions are sponsored by a grant from the Ben and Lucy Ana Walton Fund of the Denver Foundation and the Friends of the Southborough Library.