NSPAC is hosting another workshop for parents of special education students. On February 9th, Massachusetts Advocates for Children will present "Special Education during COVID-19".
The virtual event will take place on Tuesday, February 9th from 6:30 – 8:00 pm. While free, preregistration is required.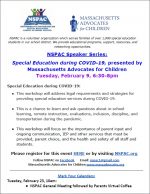 The event flyer promotes:
This workshop will address legal requirements and strategies for providing special education services during COVID-19.
This is a chance to learn and ask questions about in-school learning, remote instruction, evaluations, inclusion, discipline, and transportation during the pandemic.
This workshop will focus on the importance of parent input and ongoing communication, IEP and other services that must be provided, parent choice, and the health and safety of all staff and students.
To register, click here.
You may also want to save the date for the next general meeting for NSPAC (with a virtual parents coffee). That will be held on Tuesday, February 23rd at 10:00 am.
NSPAC (Northborough/Southborough Special Education Parent Advisory Council) is "a volunteer organization which serves families of over 1,000 special education students in our school district. We provide educational programs, support, resources, and networking opportunities." (You can check out their website here and Facebook page here.)
Massachusetts Advocates for Children's "mission is to remove barriers to educational and life opportunities for children and youth." You can learn more about them here.