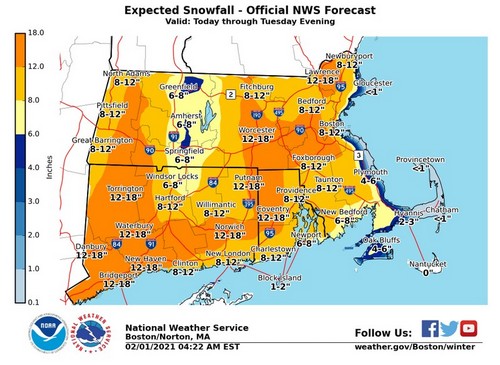 Early this morning, the National Weather Service updated its forecast maps. They forecast 12-18 inches of snow for Southborough. The agency described:
[Feb 1 430 AM] Hot off the press! A major winter storm will produce widespread 7-15″ of heavy, wet snow through tomorrow, with the Cape & Islands receiving lesser amounts. Heaviest snow is expected between noon & midnight, coinciding with today's evening commute so please plan accordingly.
The snowfall amount is consistent with their predictions for our town yesterday. Yesterday evening, Southborough Emergency Management's Lt. Neal Aspesi wrote:
Over the past 12-hours the forecast for the approaching nor'easter has increased significantly in terms of snowfall amounts.

As of 4pm Sunday, the forecasted snowfall for Southborough is 15″ with low-end & high-end possibilities being 7″ and 16″. Some areas very close to our north/west could see upwards of 20″.

Temperatures will hover around 32 degrees so depending on which flux wins will determine the consistency to be somewhat wet or powdery. Powderier snow could increase the current accumulation forecast.

Wind gusts will reach 30-35mph, which could lead to isolated power outages. This will be increased with wetter consistency snow.

Snow is estimated to begin around noon (Monday) and ramp up quickly with intermittent bands of 1-2″ snowfall rates per hour overnight. Falling snow is estimated to winddown around 2pm on Tuesday, however winds will persist for several more hours. If the snow consistency is powdery blowing and drifting snow will continue to be an issue.
It looks like the timeframe of the start and end of the storm has shifted somewhat. I see flakes already coming down as reflected in NWS' hourly forecast from this morning. And the latest hourly forecast shows a more than 20% chance of snow continuing to 7:00 am on Wednesday.
Below is NWS' hourly forecast for Southborough for the next 48 hours and the wind gust map.