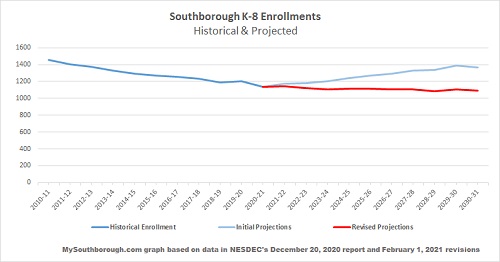 Two weeks ago, I shared an update on the subcommittee researching the potential closing of a Southborough school. At the time, I noted that officials were concerned by, but skeptical of, the growth projection for K-8 student enrollments over the next ten years. Since then, a revised report was issued, now projecting a continued decline for the next decade.
It's a difference between a 20% increase and a 4% decrease in the student population. (See the initial and revised projections below.)
Superintendent Gregory Martineau discussed the revised projections at last night's School Committee meeting. (Members were also reminded that the figures don't include any impact if the Park Central development project is approved and proceeds. The developer purportedly projected it would add another 100 K-8 students.)
The big shift in narrative caused School Committee members to question whether they could trust the consultant's projections. Some members worried about relying on those figures when making decisions about the school's capital needs and facility capacity.
Martineau reassured that no major change would be made relying only on the NESDEC projections. He reminded that if the Mass School Building Authority approves the district's statement of interest for a project at Neary School, it would open a 280 day study. That would include a deeper look at the district's future enrollments with MSBA's help. Contingency planning is also part of that process.
Member Keturah Martin, who serves on the School Research Subcommittee, addressed the potential for unexpected growth whether from Park Central or another unforseen factor. She noted that any plans for reconfiguring school spaces would include "a certain amount of cushion".
School Committee Chair Roger Challen explained potential next steps discussed at a meeting with Martineau and Martin on Monday.* Administration leadership will work with the elementary school principals and educators to do a "programmatic review" for grade and class configurations. The point is to report out to the school committee what their space needs are depending on the number of students in each grade.
Martineau confirmed that he believed they would be able to report back in May. The Committee agreed to support the effort.
As for how such a big change in projections occurred. . .
Martineau explained that NESDEC's initial projections called for a significantly bigger figure for the Kindergarten enrollment next year than Finn School's data indicated. When he contacted NESDEC about the disparity, he learned that their algorithms were aggressively calculating a ceiling for enrollments. After discussions about more reasonable expectations for next year's Kindergarten class, NESDEC adjusted its algorithms.
Martineau stressed that the incorrect figure for that one class next year carried through the following eight years, compounding the high projections. Member Jessica Devine questioned why the revised table shows Kindergarten still increasing next year, then decreasing the next year. Martin explained that next year includes a number of students that parents held back an extra year due to the pandemic.
You can see the initial and revised enrollments broken down by grades below. (For the full revised projections report, click here.)
The initial report for projected growth was still showing figures far short of the district's peak enrollments around 2004 when the Town built Woodward School.
As I previously reported, the administration and members of the Town's Capital Planning Committee are exploring whether closing/repurposing a school building makes sense logistically and financially. (You can read more about the potential benefits here.)
Martineau made a statement in last night's meeting aimed at educators and parents worried about the potential plans. He stressed the importance of including educators in strategic planning discussions. And he reassured that all stakeholders, including parents, would have a chance to be heard before any big decisions were made.
*Monday's meeting was of the School Committee's subcommittee for Capital Planning. That is not to be confused with the Capital Planning Committee's School Research Subcommittee. The latter group is scheduled to convene tomorrow morning for the first time since the revised figures were released.