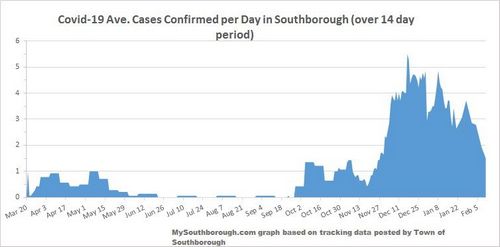 It's time for a quick update on the latest Covid-19 data from the state and Town.
The state's issued it's weekly report last night. Their figures keep Southborough classified as red (higher risk).
The report shows the Town's Average Daily Incidence Rate per 100,000 was 19.2 (lower than the prior report) and the % of tests confirmed positive was 1.05% (also lower).
Southborough's incidence rate and % positivity are both lower than all of our neighbors. Yet Marlborough is now our only direct neighbor also still in red. Our other neighbors (including Framingham) are yellow. It's worth reminding here that the metrics for determining the risk level for our Town are different than those of neighbors, due to our smaller population.
The Town's Covid-19 figures for confirmed cases were updated again yesterday morning.
The Town's cumulative total over the course of the pandemic was increased to 375 cases with 53 cases currently labeled active. As of the update, 21 cases were confirmed in the prior 14 days, 8 of those in the prior 7 days. (For details, click on graphs above and below)
The 2-week total for confirmed cases reported is now the lowest it has been since Thanksgiving week.
So, why are we still in red? The state's assessment was based on tests taken through Saturday, February 6th. Based on recent trends, there's a good chance Southborough could be downshifted to yellow next week.