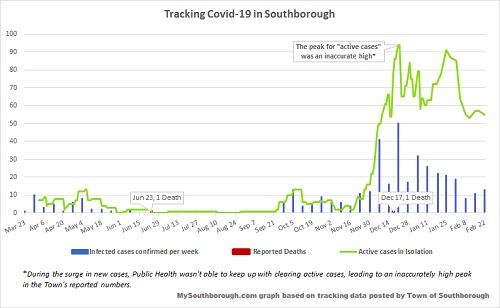 The Town's Covid-19 figures were updated as of this morning and the schools' data was posted yesterday. There is a slight uptick in figures for both. (Let's hope it's just a tiny blip and not the start of another trend.)
Following the lowest 2-week total since Thanksgiving, the numbers went up. 24 cases were confirmed in the prior 14 days, 13 of those in the prior 7 days.
Last Thursday, the state finally designated Southborough a yellow community. Whether we stay that way this week or move back into red will depend on the timing of when tests were taken (and if more cases are confirmed from tests taken on or prior to Saturday).
The Town's cumulative total over the course of the pandemic increased to 396 confirmed cases with 55 cases labeled active. (For details, click on graphs above and below.)
The Northborough-Southborough schools' Dashboard posted on Sunday shows 9 cases were confirmed in across the districts, 221 over the course of the pandemic. (Last week there were 7 cases. Southborough schools went from 1 to 3.)
Below are charts and info from the latest Dashboard and my tracking of their data since the start of the school year.
Since it was school vacation, the administration didn't track quarantines last week – just isolations for confirmed cases. Student screening was also much lower than the prior week, since only the high school participated last week. The figures for that should grow this week as more schools are added to the program.