Updated (4/7/21 4:25 pm): The SYFS speaker series was cancelled due to low attendance.
---
Southborough Youth and Family Services is inviting the community to participate in their free speaker series this spring:
Share the information with friends and join us for a fun evening with some of our favorite presenters discussing real issues.
The presentations below will all be held online via zoom or webinars.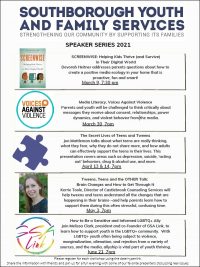 SCREENWISE: Helping Kids Thrive (and Survive) in Their Digital World
Tuesday, March 9, 7:30 pm
Devorah Heitner addresses parents questions about how to create a positive media ecology in your home that is proactive, fun and smart! (register here)
Media Literacy, Voices Against Violence
Tuesday, March 30, 7:00 pm
Parents and youth will be challenged to think critically about messages they receive about consent, relationships, power dynamics, and violent behavior from the media. (register here)
The Secret Lives of Teens and Tweens
Tuesday & Wednesday, April 13 & 14, 7:00 pm
Jon Mattleman talks about what teens are really thinking, what they fear, why they do not share more, and how adults can effectively support the teens in their lives. This presentation covers areas such as depression, suicide, 'acting out' behaviors, drug & alcohol use, and more. (To learn more or register for the 2 part webinar click here)
Tweens, Teens and the OTHER Talk: Brain Changes and How to Get Through It
Monday, May 3, 7:00 pm
Kerrie Toole, Director of Castlebrook Counseling Services will help tweens and teens understand all the changes that are happening in their brains–and help parents learn how to support them during this often stressful, confusing time. (register here)
How to Be a Sensitive and Informed LGBTQ+ Ally
Monday, June 21, 7:00 pm
Join Melissa Clark, president and co-founder of GSA Link, to learn how to support youth in the LGBTQ+ community. With LGBTQ+ youth often being subject to violence, marginalization, alienation, and rejection from a variety of sources, and the media, allyship is vital part of youth thriving. (register here)
Updated (2/25/21 10:29 am): I added the link for the May 3rd talk.