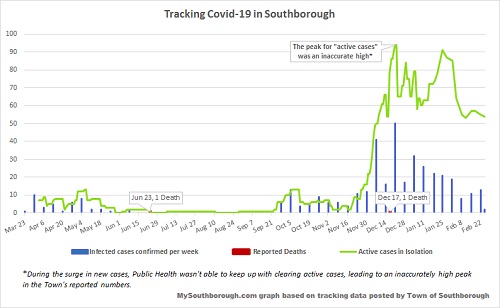 I received the Town's Covid-19 figures "as of" 9:00 am on February 25th. There were only two new cases since Monday. That's a relief given the uptick Monday's figures indicated over the prior week.
This week's report (issued last night) kept Southborough in yellow/elevated risk for a 2nd week following 11 weeks of being designated red/high risk. It kept all of our immediate neighbors in yellow with us (Framingham, Ashland, Northborough, Hopkinton, Marlborough and Westborough).
The new report shows the Town's Average Daily Incidence Rate per 100,000 was 17.0 (higher than the prior report) and the % of tests confirmed positive was 0.92% (higher).
From the Town's data as of Thursday morning, 23 cases had been confirmed in the prior 14 days, 15 of those in the prior 7 days.
The Town's cumulative total over the course of the pandemic was increased to 398 cases with 54 cases currently labeled active. (For details, click on graphs above and below.)