Southborough Recreation is offering three different sports programs for 3-6 year olds this spring, with plans to repeat them this summer.
The programs will be held outdoors on Saturdays. Participants will play on the fields next to the Fayville playground (on Central Street). The spring sessions will run from May 1st to June 5th. Summer sessions are from July 10th to August 7th.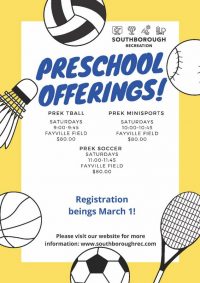 Each session costs $80. Registration opened yesterday. Details with links are below:
Spring session 10:00 – 10:45 am; Summer session 9:00 – 9:45 am
This program is a combination of warm-up games and sports such as soccer, kickball, and tball. It will ease children into learning the basics of all these great games as well as teaching them the importance of team work! Each class F.A.S.T. Athletics will have new and exciting games planned for the students.
Spring session 12:00 – 12:45 pm; Summer session 11:00 – 11:45 am
Run by F.A.S.T. Athletics
Spring session 9:00 – 9:45 am; Summer session 10:00 – 10:45 am
Let's take a walk through the fundamentals of America's favorite pastime. The children will learn the basic skills in fielding, throwing, hitting, and base running. In addition, they will play games such as home run derby, last one standing, and running bases. This is an easy introduction into t-ball where learning and skill development are our priorities.