Southborough Youth and Family Services is encouraging the community to shut down their screens for 24 hours.
Tonight (Friday, March 5th) kicks off the "National Day of Unplugging".
Participants are invited to "unplug" around sunset and stay unplugged until tomorrow evening (Saturday, March 6th). (It looks like that's around 5:45 pm each day.)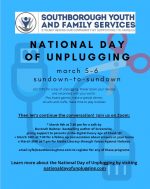 Southborough Youth and Family Services encourages:
Join SYFS for a day of unplugging. Power down your devices and reconnect with your world. Play board games, make a special dinner, do arts and crafts, make time to play outside!
Tomorrow's forecast has this week's higher winds dying down to only 3-6 mph, with sunny skies and a high of 34 degrees. It's not exactly picnic weather, but not too bad for heading outdoors.
You can find out more about the national initiative with more of their ideas on what to do with the day, click here. (Of course, do that before sundown! I'll be doing some advance work of my own – printing off some recipes so I don't have to google them tomorrow.)
SYFS will follow up on the event with other programs to help families learn to manage their screen time:
Then let's continue the conversation! Join us on Zoom:

March 9th at 7:30 pm for a talk by Devorah Heitner, bestselling author of Screenwise, giving support to parents in the digital-heavy age of Covid-19!
March 16th at 7:30 for a follow up conversation about screens in your home
March 30th at 7 pm for Media Literacy through Voices Against Violence
Those are just some of SYFS' events planned for their Speaker Series this spring. You can check out more (and registration links) here. To reach out to SYFS about any of their programs, email syfs@southboroughma.com.