Recently, the Chair of the Historical Commission followed up on questions and comments of concerns he received about flags in the Old Burial Ground. In the process, he apparently ruffled some feathers (again). Selectmen are scheduled to discuss the issues tomorrow night.
In the meantime, the Commission has issued a letter to selectmen asking them to consider replacing – and moving placements of – some flags. (It's one of two letters the Commission issued to selectmen related to items on this Tuesday's agenda. The second is on the South Union building.)*

Back in the 1990s, flags were added to the Old Burial Ground to honor veterans buried there. Each spring, veterans refresh them. (Looking at their condition prior to this weekend's high winds, they definitely need replacing.)
The Historical Commission is asking the Town to replace two of the flags with ones more historically appropriate for our town that aren't "politically charged". In addition, they are asking the board to move poles that are "piercing" old grave sites.
According to Historical's Chair Michael Weishan, the first issue stems from concerns over Revolutionary War era flags reported to have become associated with white supremacy and militia groups over time. Weishan noted that the residents who reached out to him asked not to be named. They didn't want to be at the center of public controversy. He told fellow members, that he now understands why.
At their meeting on Thursday, Weishan recapped his investigation and communications around the issue.

Two of the flags flying in the historic cemetery are Virginia and South Carolina versions of the Gadsden Flags. (See image right.) His research found that they don't represent flags that are historically associated with veterans buried in the historic cemetery. (In an interesting aside, he also shared that one resident commented that half the residents buried in the grounds were loyalists to Britain.)
Weishan told fellow Commissioners last week that the South Carolina flag's problematic associations date back even further than the 60's. Purportedly, before the Civil War it was became associated with the state's call for secession from the Union. Weishan has since written in a post on the Southborough Historical Society's website:
If this were South Carolina and these flags were actually part of Southborough history, it would be a different story. But we aren't in South Carolina and these aren't our banners (and thankfully not our history), and given that these symbols have taken on a very ominous meaning for some of our residents, there his no historically justifiable reason to provoke residents who feel strongly on this matter.
(You can read more about the flags' history and associations in Weishan's post.)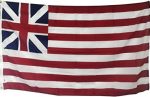 Further research by Weishan identified flags he asserted were more reflective of those that veterans from Southborough and the area would have served under. They included "the Continental Colors" first raised by General Washington in Cambridge. (See image left.)
Weishan said that following up on resident's comments, he "very innocently" reached out to town veterans to get their feedback on the issue.
According to Weishan's recap he asked Steve Whynot (Southborough's VFW Commander) to pass on to veterans his email about the flag issues. He also used the opportunity to raise his concerns about the placement of the posts for the semi-circle of the smaller flags which he describes as "piercing" some unmarked grave sites.
In Historical's meeting, Weishan explained that a number of gravestones were broken and lost in the 1930s. A ground-radar survey conducted prior to the Main Street reconstruction located their placements, some of which are under flag poles in the semi-circle. He also acknowledged that the poles don't really go deep into the ground.
Apparently, Weishan's message raised red flags with some veterans who contacted the Board of Selectmen. In turn, BOS Chair Marty Healey contacted to Weishan.
Weishan indicated to Commission members that he and Healey had a "very heated" exchange. Healey was purportedly upset that Weishan had contacted veterans rather than selectmen, and admonished him to "stay in his lane". (Town properties, including the Old Burial Ground, are under selectmen's purview.) Weishan recapped that he defended the Commission's responsibility to investigate the issues raised to them. He said that he had intended to bring the issue to selectmen once the Commission had looked into the matter.
Commission members agreed with Weishan's proposed recommendation, since the flags of concern also seem to be less historically accurate for those buried in the grounds than other options. They voted to ask selectmen to consider replacing them.
A message issued by Weishan on Friday included:
As we have already alerted you, the Historical Commission has received complaints about the choice of flags flying the Old Burial Ground. Particularly egregious to many are the two variants of the Gadsden flag, which was designed by a slave owning South Carolinian and has become linked to white supremacist groups including the Ku Klux Klan. These associations are not new; many date back to the 1960s. . .

Last night, the SHC voted 6-0 to urge the BOS to undertake an immediate review of these flags, with an aim to:

1) moving the current semi-circle of flags out of the actual burial area to preserve the integrity of those buried beneath the poles. The current poles are actually piercing the unmarked graves below.
2) removing flags of the South Carolina and Virginia regiments that carry such negative associations to people of color, and replacing them with flags that actually represent the veterans buried there.

The Historical Commission has done considerable research as to which flags would be appropriate for the period and to the individual buried veterans involved, and would be happy to share that guidance with you if requested.
In Historical's meeting last week, Weishan stated:
I think it's very hard for us group of white faces to understand what it is to be a person of color in this country. And when people say there is a problem with an image, I'm inclined to listen, because images have power. I don't always agree but I'm inclined to listen.
He followed that he hoped selectmen and town veterans would also listen.
On tomorrow night's Board of Selectmen agenda, under the Chair's report, Healey is scheduled to raise the issue "Cemetery/Old Burial Ground Issues: Veterans and Historical Commission Communications".
If the discussion puts Weishan in selectmen's crosshairs over his communication style, it won't be the first time. In 2018, the Board chose not to reappoint Weishan to the Commission based their objections to some emails he sent community members related to issues around an historic home he was trying to prevent being demolished. After a two year absence that Weishan referred to on Thursday as his time "in the box", he was reappointed last September.
*The Historical Commission also issued a second letter to the Board of Selectmen on Friday that may displease them. Following up on the board's decision to issue an RFP for disposal of the South Union building, the Commission objected to their decision to include seeking bids that would not require historical preservation. You can read that letter here.
Updated (3/16/21 11:17 am): I learned of an online petition asking selectmen to replace the Gadsden Flags. As of this morning it had 50 signers.