The Southborough Library launched a new program today. This one appears to be geared to help residents who miss the ability to browse Library shelves.
Patrons have always able to request/reserve specific books they are looking to read. For those looking for ideas on what to read, the Library has also been sharing staff recommendations and highlighting new books on its website and Facebook.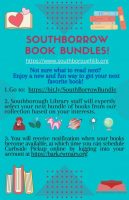 Now, staff will be putting together bundles of books for patrons to check out based on their tastes. The service will help adults looking for help finding books to read. It will also help parents trying to find books to interest their children:
Starting March 15th, patrons can get personalized recommendations from the Southborough Library by filling out the new SouthBorrow Book Bundles!

Once you complete and submit the form, Southborough Library staff will expertly select your next bundle of books from our collection based on your interests. Allow library staff up to 48 business hours to respond to any book bundle request. Please submit a different form for each individual family member.

You will receive notification when your books become available, at which time you can schedule Curbside Pickup online by logging into your account.
For readers who still have questions about when the Library will reopen to the public, it's worth highlighting the Library's Board of Trustees meeting tomorrow morning at 11:00 am. Trustees will discuss a "Draft Reopening Plan".