Algonquin's Student Council is holding a specialized collection drive for the non-profit Catie's Closet. On Facebook, a student explained:
The Algonquin student council is collecting socks for Caties closet! Catie's closet is a non-profit organization that is dedicated to helping give relief to students in poverty. Please help us reach our goal of 200 socks and donate!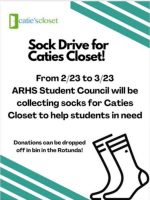 The collection began on February 23rd and will run until March 23rd. An update late last week, shared that they were already up to 115 pairs.
Donated socks can be dropped in a collection bin in the school's rotunda.
The non-profit touts:
Catie's Closet improves school attendance and graduation rates, as well as the mental, emotional, and physical health of students facing poverty, homelessness, and other crises by providing free, in-school access to clothing and basic necessities and uniting with community partners to meet students' other immediate needs.
It's website also highlights an increased need at this time as many students across the state are preparing to return to in-school learning after spending this past year learning from home.