Today, Southborough's Neighbors for Peace posted an announcement about events this weekend to "Rally and March Against Anti-Asian Hate Crimes and Racism".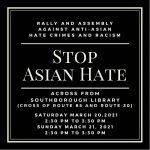 Two rallies are scheduled to take place on the St. Mark's field at the corner of Main Street and Route 85. (Across the street from the Southborough Library.)
The gatherings will take place from 2:30 – 3:30 pm on Saturday, March 20 and Sunday, March 21.
Yesterday, Neighbors for Peace teamed up with the group "Hate Has No Home" to issued a joint letter on social media and as a letter to the editor on this blog. It referenced the shootings in Atlanta and denounced hate-fueled violence.
The letter included:
Far too often when we live further away from horrific events like this, we tend to move on with our already full lives. Yet, as poet John Donne described, when a bell tolls anywhere for the loss of life, we must realize it tolls also for us, for none of us is an island by ourselves. . .

As our Jewish, Christian, and Muslim neighbors begin their celebrations of Passover, Easter, and Ramadan in the coming weeks, we keep the calls of redemption, new life, and charity in the forefront of our hearts so that we might continue to seek peace for all people.
You can read the full statement here.
Updated (3/19/21 3:33 pm): One of the organizers shared a revised flyer.