The Southborough Library is adding another new virtual program, along with another new "circulating" item in its collection.
The Library describes the ukelele as an instrument that is fun and easy to play. And the Library is helping to make the learning part happen for teens and tweens.
Patrons ages 9-19 are invited to join instructor Julie Stepanek over zoom for weekly group lessons in May.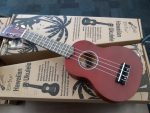 Thanks to funding from the Southborough Education Foundation, you don't need to own your own instrument. The Library has ukeleles available to borrow.
The zoom sessions will take place on Fridays, May 7th – 28th from 3:00 – 4:30 pm. Stepanek will demonstrate the fundamentals of ukulele playing. Students will learn how to tune, strum and read chords. After a short lesson, you'll be able to play songs. No experience necessary.
This program is supported by a grant from the Southborough Cultural Arts Council, a local agency which is supported by the Mass Cultural Council, a state agency.
To register, click here. To reserve a circulating ukulele, email rdonovan@cwmars.org.
Updated (4/16/21 9:13 am): This program turned out to be overly popular. Registration is now full with a waitlist.