The Southborough Gardeners are promoting a special exhibit next week. In collaboration with Southborough Library staff, they are creating special "Books in Bloom" arrangements.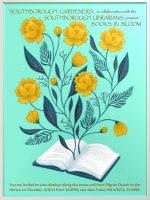 Participating members of the Gardeners are creating floral arrangements based on a book cover they have chosen.
The arrangements will be displayed on the Old Burial Ground stone wall running up Common Street between the Library and Pilgrim Church.
Fingers crossed, the exhibit will take place a week from Thursday, on April 8th from noon to 4:00 pm. Friday, April 9th is the backup rain date.
It's not the first time the Gardeners have collaborated to create inspired arrangements. But it is a different tack for them.
In prior years, the creative Gardeners have used the Library as the exhibition place for creative arrangements inspired by student art.

The Art in Bloom exhibits never failed to impress. (In the example left it appears the artist, and therefore the Gardener, took some inspiration – and physical materials – from a book. You can click the following links to see some more great examples from their exhibits in 2018, 2016 and 2013.)
I'm looking forward to see what they come up with this year.