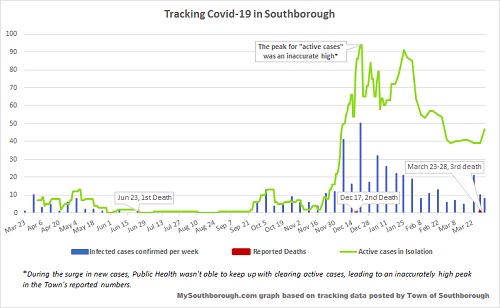 Mass Public Health re-designated Southborough red/high risk last night.
The state also released this week's data on Southborough's vaccinations. So, it's time for an update.
State Covid Testing Report
Last night, the state reported of data covering results from tests taken during the 14 day period ending Saturday, March 27th. The risk status is based on 26 positive results that came in by Wednesday. That's up from 24 in the prior week's report.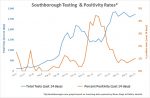 The % of tests confirmed positive for that period was higher this week (1.03%) You can see details of the positivity rate trend in my graph right.
The Town's Average Daily Incidence Rate per 100,000 was 19.2 (also higher).
The state designated Framingham red but kept all of our other immediate neighbors as yellow. (Those towns are Ashland, Northborough, Hopkinton, Marlborough and Westborough.)

At this time, all of our secondary neighbors are designated yellow except for Milford (red) and three lower risk communities (Berlin, Boylston, and Sherborn).
Vaccination Reporting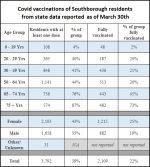 As of Tuesday, 39% of Southborough residents were at least partially vaccinated
To the right are some of the key figures as of March 23rd by age group and by gender.
For more details, including data categorized by race and ethnicity click here.
Updated Town Data
The Town updated its figures as of yesterday morning at 9:00 am. At least 28 cases were confirmed in the prior 14 days, with at least 8 of those in the prior 7 days.
Note: In updating my graphs, I noticed an error in my spreadsheet for the March 28th data and graphs I reported on Monday.*
The Town's cumulative total over the course of the pandemic was increased to 453 cases with 47 cases labeled active. (For details, click on updated graphs below.)
*An error caused me to over-report by 10 the number of cases in the 7 days prior to March 28th. It also impacted the graph that tracks cases by week.