The Northborough-Southborough schools' weekly Dashboard for March 29 – April 4 shows 16 new cases were confirmed across the districts, 278 over the course of the pandemic.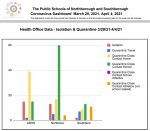 212 students/staff were isolated or quarantined last week. The biggest causes were 60 Northborough students quarantined for in-school contact and 39 Algonquin students for out-of-school contacts.
Last week was the second full week for K-5 full in-person learning. This Tuesday, the District's Medical Advisory Team is scheduled to make the final decision for the return of full in-person for Grades 8-12 on April 26th.
The district is still short of its goal for 80+% participation in the student screening program. Participation decreased last week, but that may have been related to the increased number of students kept home.
Woodward participation went up from 67% to 70%
Neary went up from 59% to 61%
Trottier stayed at 54%
ARHS stayed at 47%
Finn was down from 50% to 47%
The samples collected at the end of last week successfully screened out another infected asymptomatic student from attending this week.
Below are more charts and info from the latest Dashboard and my tracking of their data since the start of the school year.