Mass Public Health posted its weekly reports last night, and the Town updated its figures this morning. So, it's time for an update.
The good news is that the state reports 46% of Southborough residents are at least partially vaccinated (as of April 6th). 66% of ages 50+ have at least one dose and 74% of ages 75+ are fully vaccinated. For more highlights, see my graph and chart below. You can find more details, including breakdowns by race/ethnicity, click here.

Last night's report on testing results kept Southborough and neighboring towns in the same risk categories as last week. Southborough, Framingham and Milford remain red. Our remaining neighbors are still yellow except for three lower risk secondary neighbors (Berlin, Boylston, and Sherborn).
The report lists the key metrics as "No Change" meaning <0.10% difference from last week's report. The Town's Average Daily Incidence Rate per 100,000 as 19.9 and the % of tests confirmed positive as 1.12%. (The reports are based on data covering the 14 day period ending April 3rd.) See my tracking of the testing & positivity rates below.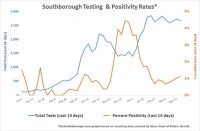 The Town updated its Covid-19 figures "as of" 9:10 am this morning (after skipping the Monday update). 21 cases confirmed reported in the past 12 days, 13 of those in the last 8 days.

The cumulative total over the course of the pandemic was increased to 466 cases with 36 cases labeled active. (For details, see graphs below.)
(Since the Town isn't consistently posting the numbers, the latest "14 day" graph is an approximation.)