The district administration asked me to share another flyer seeking candidates. As the NSBORO Schools fully reopened K-5 and is about to do the same with grades 6-12, they are seeking more applicants for backup to essential school positions.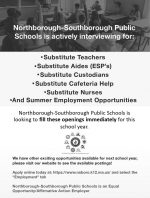 The substitute list again encompasses far more than teachers. The district is also seeking substitute aides, custodians, cafeteria staff, nurses, and summer help.
According to the flyer, the district is already actively interviewing candidates.
The flyer directs interested applicants to the district's HR website for more details on the jobs. There you'll find listings for "ESY" jobs which are specifically for the summer program. Scroll down and you'll also find listed substitute openings that they are looking to start ASAP.