In one week, Neary SOS* is bringing in a special food truck. The original purpose is to treat Neary teachers in a show of appreciation. But, they are also opening up the opportunity to the public as a fundraiser.
The Whoo(pie) Wagon sells over 20 varieties of whoopie pies and over a dozen varieties of cookies. They also offer some vegan, gluten free, and dairy free options. (There's even a "WOOFie pie for pups"!)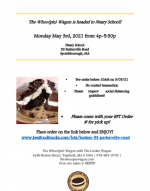 To participate in the fundraiser, place your orders through this link by 10:00 am on Monday, May 3rd. Then plan to pickup your order from 4:00 – 5:00 pm that afternoon in the Neary parking lot (53 Parkerville Road).
The Whoo(pie) Wagon is part of Best Food Trucks. When you place your order, you'll receive a "BFT order #". Be sure to bring it with you at pickup (and observe social distancing guidelines).
*Neary SOS is the parent-run Southborough Organization for Schools chapter dedicated to supporting Margaret A. Neary Elementary School for grades 4-5.