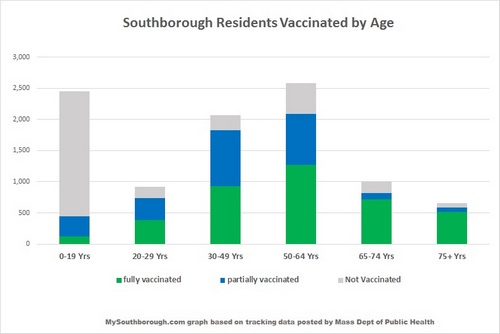 The Mass Dept. of Public Health issued its weekly reports this evening. Although the Town is still designated yellow, cases have gone down. Also worth noting, is the continuing progress vaccinating our community.
As of this week's report – 6,505 Southborough residents have received shots. That means 67% of our Town is at least partially vaccinated (as of April 27th).
84% of residents 20+ are at least partially vaccinated. 59% of ages 50+ are fully vaccinated.
More highlights by age group and gender are below: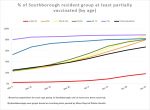 (For more details on those groups, plus race/ethnicity, click here.)
As for confirmed cases the state listed 18 in the two weeks ending last Saturday. The Average Daily Incidence Rate and Positivity Rates was both lower than the prior period (13.3 per 100,000 and 0.75%)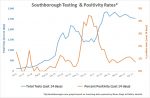 All of our immediately neighboring Town were also kept yellow. Secondary neighbors are either yellow or lower risk (gray or green).
When I last reported Covid figures, I noted that the public schools didn't issue a weekly Dashboard on Sunday. Since then one was posted. Since last week was Spring Break, they didn't track the number of isolated/quarantined students and staff. They did share that there were only 2 confirmed cases reported across the district last week – both from Algonquin.