The Southborough Library is holding more crafting events for tweens and teens. The exciting news is that some of the upcoming sessions are in person.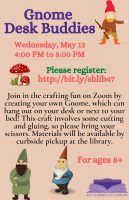 One last session for crafting over zoom is scheduled for next week, Wednesday, May 12 at 4:00 pm. The theme is Gnome Desk Buddies:
Join in the crafting fun on Zoom by creating your own Gnome, which can hang out on your desk or next to your bed! This craft involves some cutting and gluing, so please bring your scissors. Materials will be available by curbside pickup at the library.
Please register: http://bit.ly/sblib47. For ages 8+
The craft will be led by Mandy Roberge. The popular crafter used to lead occasional "Crafternoons" at the Library. That series is back coming back with gatherings planned for the Library lawn.
Join the Southborough Public Library in this series of fun and unique craft projects! These afternoon activities are held outdoors with distancing precautions in place. Registration is required!
One session will be held each month this summer on a Wednesday afternoon:
Henna Tattoos – June 30 (5:00 – 6:00 pm)
Crafter and henna artist Mandy Roberge will bring her skills to create an intricate henna design on your hand or arm! Choose from a variety of patterns and designs. Covid safe procedures will be in place.
Dog Treats and Catnip Mice – July 21 (4:00 – 5:00 pm)
Using oat flour, pumpkin puree, and honey, along with other ingredients, participants will make dog bones with cookie cutters. Following that, students will sew catnip mice!
Book Bags – August 11 (4:00 – 5:00 pm)
This workshop will use basic sewing skills to make a book bag that participants can use for the library or school. Fun fabrics will be provided and the simple design is one that kids can try again at home!
To register, for any of the in-person sessions, click here. The outdoor gatherings are sponsored by the Friends of the Southborough Library.