The Northborough Southborough Eagles Youth Rugby program is inviting kids to give their co-ed middle school program a try.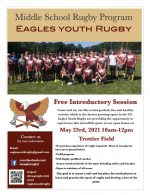 They are holding an open house with their practice this Sunday, May 23rd. Anyone in grades 5-8 is welcome to drop by Trottier Middle School's field from 10 to noon. (No signup necessary.)
Interested players should be dressed in sneakers and equipped with water bottles to stay hydrated.
For more information on the Eagles program (and a nearby one for younger players), click here for my post from earlier this spring.