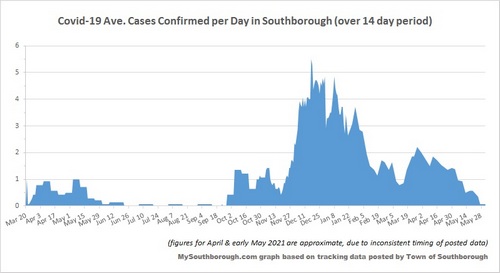 It's time for an update on Covid cases in the Town and schools. The news is looking good.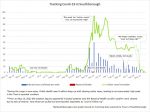 As of this morning, the Town reported no currently active cases confirmed for Southborough residents.* There were no new cases in the past week, and only one in the past 14 days. Cases haven't been this low since late September. (For details, click on graphs above and right.)
Northborough-Southborough Public Schools reported that the only new case last week was in the Northborough K-8 schools. Only 2 Algonquin students/staff members were isolated or quarantined last week. None were kept home from Southborough K-8 schools. (That's for the in-person program. Obviously, those in the Stand Alone Remote Program were home!)
The updated NSBORO Dashboard doesn't yet share the results from screening and tests taken last week. (I presume due to the holiday weekend.)
Below are key data from the latest NSBORO Dashboard followed by my graphs tracking the data over the school year:
*Note: Sometime since the Town separated out 16 prior cases on May 13th as "lost to follow up", a 17th case was added to that category.
(Updated 6/4/21 1:35 pm): Replaced the graph on new cases per school district per week. The prior one wasn't updated to include last week.