Southborough Youth and Family Services is inviting the public to learn "How to Be a Sensitive and Informed LGBTQ+ Ally".
The training will be conducted by GSA Link* President and Co-Founder, Melissa Clark.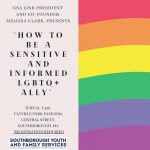 Participation is free, but pre-registration is required (here). SYFS' Christina McCarthy tells me the presentation is appropriate for adults and teens. If you have any questions, you can call her at (508) 481-5676.
The event will be held outdoors at the Fayville Park Pavillion (next to the playground) on Central Street. Participants are welcome to bring their own camp chairs (though the pavilion has some seating.)
The session is scheduled for Monday, June 21st at 7:00 pm.
*GSA Link seeks to connect, empower, and inspire LGBTQ+ youth. Today, few programs currently exist to serve this specific population. For the youth who get involved, we have a variety of programs designed to listen to and promote their voices with peer and adult support. With every new struggle, discovery, friend, and triumph, we aim to show LGBTQ+ youth that they deserve to be their most authentic selves and that we're here to celebrate them through it all.
Updated (6/10/21 4:21 pm): Replaced flyer and cover image since the originals had a typo.