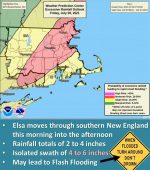 I'm sure you're aware that the rain outside is more than just a passing rain cloud. Tropical Storm Elsa is passing through our state today. The Southborough Fire Department asked me to warn readers about potential for flash flooding in Southborough (and a large swath of New England) today.
I found the most recent map from National Weather Service (right) warning of the potential for excessive rainfall to trigger rapid onset flooding in New England. Southborough is in the 20-50% chance zone. Rainfall is predicted to be at least at 2-4 inches today with potential isolated areas of 4-6 inches.
Below is the latest weather chart for the next 48 hours. It shows the heaviest rain potential continuing through 2:00 pm with possible gusts of 30 mph winds around noon.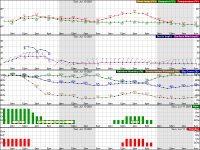 Fire Chief Steven Achilles shared links on how to prepare for these conditions and how to stay safe when urban and flash flood conditions are likely:
Lt. Neal Aspesi also shared:
the impacts on the Southborough area are expected to be limited, meaning not widespread or overly damaging. However, dangers will still be present during and after the storm.

Greatest Threats:
Flash flooding based on projected rain fall amounts combined with the several inches of rain we received this past week.
Isolated downed tree limbs, downed live powerlines and power outages.

Safety:
Remain indoors throughout the storm if possible
When driving, anticipate downpours without notice throughout the storm, which could result in poor visibility and rapidly flooding roads (i.e. hydroplaning)
Be cautious of flash flooding, especially near small streams/rivers and drainage culverts. Remember "Turn Around, Don't Drown" CLICK for PSA Video
After the storm be vigilant of residual flooding, downed powerlines (consider all to be live) and overhead dangers (i.e. weak tree limbs)