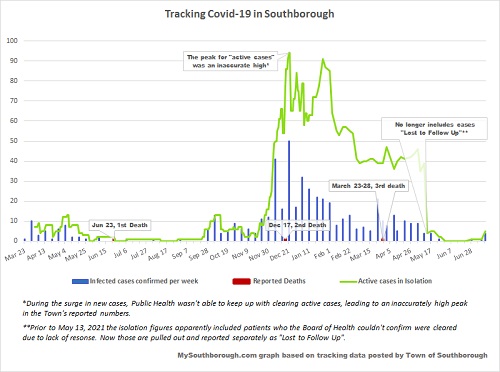 The Town updated its Covid-19 infection data as of the afternoon of Monday, July 12th. At that time there were 5 new cases confirmed since my last update at the end of June.

The Town's cumulative total over the course of the pandemic is 514 cases with 5 cases labeled active. It's the most active cases since May 20th. Last summer, infection rates that went down in late May didn't rise this high until late September. (However, that may have been partially due to availability of testing.)
Last week's report from the state continued to keep Southborough in the lowest risk/gray category for the 8th week. (The entire state has been designated low risk since the end of May.) While the report was based on data pre-dating the latest confirmed infections, the latest cases won't be enough to trigger even moving up to "green/low risk" let alone a higher category this week.
(For details on the town and state stats, click on graphs above and below.)
Due to HIPPA regulations, the Board of Health can't share if infected residents were fully vaccinated, or if these represent "breakthrough infections".
As of last week's report – 8,200 Southborough residents had received shots (as of July 6th). The numbers haven't changed significantly since I last shared them. I calculated about 85% of residents ages 20+ are fully vaccinated, and another 7% are partially vaxxed. Plus, 94% of teens are at least partially vaccinated and 83% fully vaccinated.*
More highlights by age group and gender are in charts below:
(For more details on those groups, plus race/ethnicity, click here.)
*As I've previously stipulated, I used census data since the state's population data was clearly outdated.