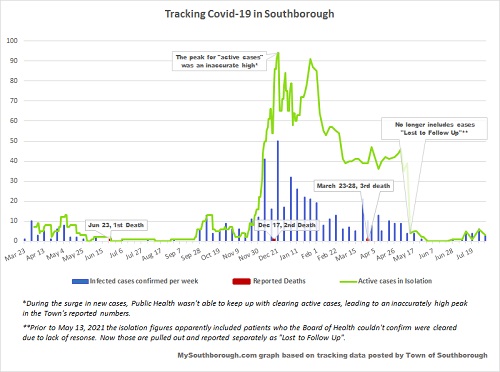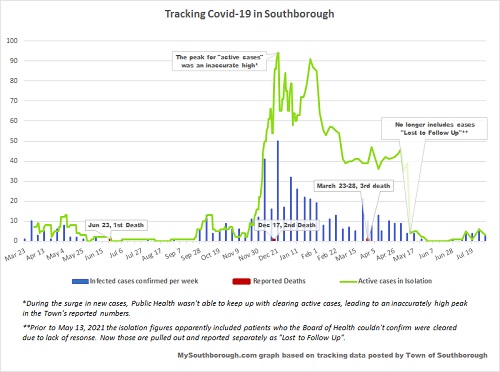 [Updated (8/2/21 3:02 pm): The Board of Health corrected their data that was posted this morning, after learning that one of the recently reported cases wasn't actually a Southborough resident. I've updated the stats and charts to reflect the change.]
Updated (8/321 12:12 pm): I forgot to include yesterday a noteworthy tidbit from the Public Health Nurse. She can't reveal how many cases this summer have been break-through infections. But she could share that none of the fully vaccinated Southborough patients had severe symptoms. Those who were vaccinated only came down with symptoms described as similar to a mild cold. (If you have yet to be vaccinated, you can click here for information on where to get a shot.)]
As of this afternoon, the Southborough Board of Health is showing 3 residents in isolation for active cases of Covid-19. The total cases over the course of the pandemic is now 527. That's 9 cases reported in 14 days. For details, click on the graphs above and below.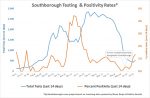 Last Thursday night's report from the Mass Department of Public Health listed Southborough as having 11 cases in two weeks with the Average Daily Incidence Rate per 100,000 as 8.1 (higher than prior period) and the % of tests confirmed positive as 1.79% (also higher). (The report was based on tests taken in the 14 day period ending on the prior Saturday.) See my tracking of the testing & positivity rates right.
As of that night's vaccination report – 8,271 Southborough residents had received shots by July 27th.
Vaccination curves had flattened out this summer, but there is a slight increase for teen vaccinations. My data indicates 86% of residents ages 20+ are fully vaccinated, and another 7% are partially vaxxed. Plus, 97% of teens are at least partially vaccinated and 87% fully vaxxed.*
More highlights by age group and gender are in charts below:





(For more details on those groups, plus race/ethnicity, click here.)
To find a clinic/location to recieve a Covid Vaccine (including follow-up doses) click here.
*(I use demographics extrapolated from 2019 census data since the state's population data is clearly outdated.)